Boutique de bijoux en verre artisanal : Unique creations
It's a special year: my store is celebrating its tenth anniversary. My glass jewelry journey began long before the inauguration, at craft markets in Provence.
An adventure in craftsmanship along the Côte d'Azur
In the early 2000s and for over ten years, I presented my creations in towns and villages as picturesque as Ramatuelle, Cogolin, La Croix Valmer, Port Grimaud, Cavalaire and Bormes-les-Mimosas, as well as in the charming village festivals of the Var hinterland. We set up our parasols and tables under the sun and stars of Provence. I loved the fairground atmosphere and the bustle of the markets, during the day or at night, settled between Marseille soaps and tapenades, sometimes even in the rain and the whims of the Mistral. With the fair over, we packed up and headed off to our next destination, returning the Place des Boules and the streets to their users.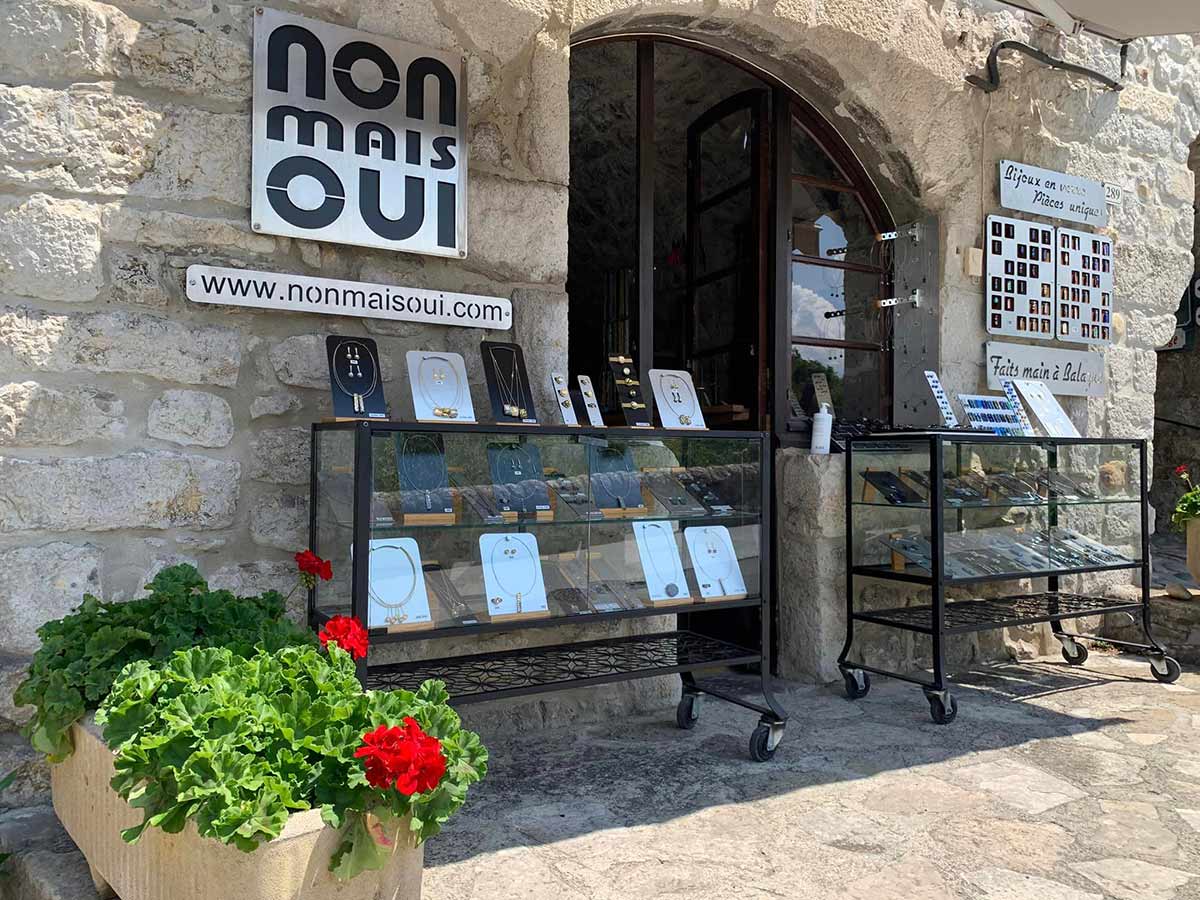 From showman to shopkeeper in my village of Balazuc
Over the years, I came up with the idea of having my own exhibition space. That's how, in 2013, I opened the doors of my little vaulted boutique in the magnificent village of Balazuc, a 12th-century medieval village at the entrance to the majestic Ardèche gorges.
Since then, I've been welcoming you to this warm, intimate space in summer. My boutique reflects my passion for hand-crafted glass jewelry. Here you'll discover not only the five collections available on my website, but also many other creations, all unique pieces, bursting with color, the fruit of diverse techniques that are constantly evolving.
I listen to you, advise you and you take the time to try on and compare the jewels. And if you're interested in the technique, I'll explain how they're made.
Unique jewelry accessible to all
I invite you to discover my latest unique creations of handcrafted glass jewelry.
Whether you're fascinated by this material, simply looking to add a touch of authenticity to your personal collection or for a gift, the choice is vast, starting at 28€ for rings and 38€ for pendants.